The South Essex Regiment (later the Prince of Wales' Own Volunteers) is a fictional single battalion regiment in the British Army.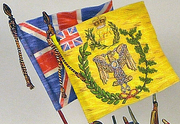 The troops wore yellow-faced jackets, and the officers had silver lace on their shakoes. The unit was first raised as a militia battalion, under Colonel
Henry Simmerson
, and was later moved to Portugal to fight in Wellesy's army on the Peninsular.
Lieutenant Sharpe and his band of riflemen were attached to the South Essex's Light Company after the events of Valdelacasa in Sharpe's Eagle. Due to his bravery, Sharpe was promoted to captain of the light company, though Simmerson was humiliated by having his regiment considered a 'battalion of detachments' in the division of General (Daddy) Hill.
At Talavera, Simmerson ordered the unit out of the battle line, but Sharpe and Harper kept the light company in the fray, fighting their way through to the centre of a French column and restoring the regiment's honour by capturing its eagle. Simmerson was dismissed for his actions, and the regiment was placed under the command of Colonel William Lawford.
List of known officers at formation:
Selected rank and file
Sergeant Read
Sergeant Huckfield
Corporal James Kelly
Private Batten
Private Roach