Richard Sharpe and the Winter Campaign, 1814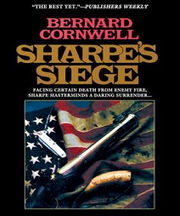 The invasion of France is under way and the British Navy has called upon the services of Major Richard Sharpe. He and a small force of riflemen are to capture a fortress and secure a landing on the French coast - one of the most dangerous missions of his career.
Through the reckless incompetence of a naval commander, Sharpe finds himself abandoned in the heart of enemy territory, facing overwhelming forces and the very real prospect of defeat. He has no choice but to trust his fortunes to an American privateer - a man who has no love for the British invaders.
Characters
Edit
Locations
Edit
St Jean de Luz
HMS Vengeance
HMS Scylla
the Amelie
Teste de Buch fort
February 23rd  1814 - (Chapter 1)
Other Details
Edit
Book Details
Edit
Copyright: Rifleman Productions Ltd 1989
First Published: 1989
ISBN 0006510418 - HarperCollins Paperback edition (1997)
ISBN 0745158773 -  Chivers Audio Books Audio Cassette edition - Narrator: William Gaminara (April 1991)