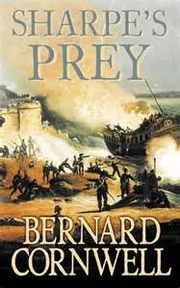 Sharpe's Prey is, chronologically, the 5th book in the Richard Sharpe series. It takes place in Copenhagen, Denmark, 1807 when Sharpe is tasked with protecting an aide to the Duke of York, but eventually becomes part of the Bombardment of Copenhagen.
The story begins with Sharpe returning to his childhood orphanage. He pretends to be buying drummer boys for the 95th, but plans on robbing the master, Jem Hockings, who had flogged him in his youth. Trapped, however, he kills Hockings and one other man, and runs.
He meets Major General David Baird in the Frog Pick pub, who was with him at the Siege of Seringapatam. Baird offers him the task of protecting Captain/Major Lassiver. Sharpe accepts.
They then sail to Copenhagen, but Lassiver tries to have Sharpe killed and proves himself a traitor.