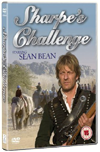 The movie is a weird amalgam of details from the Cornwell novels
Sharpe's Tiger
,
Sharpe's Triumph
, and
Sharpe's Fortress
, which were set in India between 1799 and 1803, as well as original elements, all set three years after the Battle of Waterloo, but filmed almost a decade after
Sharpe's Waterloo
. 
Wellington sends Sharpe to recover an agent in India, a job he refuses until he finds the agent's name is Harper. When a general's daughter is then kidnapped by an Indian warlord, the tension mounts, leaving Sharpe no option but to pursue the enemy right into his lair. Deep in the heart of enemy territory he also has to keep at bay the scheming Regent, Madhuvanthi. The fate of an empire and the life of a general's daughter lie his hands.
Cast and Characters
Edit
Toby Stephens - William Dodd
Michael Elwyn - Sir Samuel Rawlinson
Lucy Brown - Celia Burroughs
Peter-Hugo Daly - Shadrack Bickerstaff
Peter Symonds - General Burroughs
Graham Mctavish - Hector Mcrae
Karan Arora - Davi Lal
Oliver Chris - Captain Leonard
Nicholas Blane - Major Crosby
Lex Shrapnel - Captain Lawrence
Alyy Khan - Mohan Singh
Karen Panthaky - Khande Rao
Miscellaneous
Edit
There are numerous historical inaccuracies included in the film, including errors on the differences between King's and East India Company troops, their punishments, and their methods of promotion.
External Links
Edit