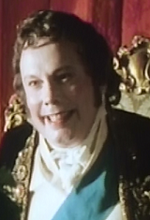 The Prince Regent, later George IV, ruled as regent for the period during which his father,
King George III
, suffered madness.
In the Sharpe novels, he personally orders the promotion of Richard Sharpe to Major having become enamored of the soldiers exploits, and later he renames the South Essex Regiment the Prince of Wales' Own Volunteers after they are presented to him rather grandly by Richard Sharpe in Sharpe's Regiment.
The Prince Regent was nicknamed 'Prinny.'
In the television movie, Sharpe's Regiment, he is portrayed by Julian Fellowes.
Historical Figure
Edit
From 1811 until his accession as George IV, he served as Prince Regent during his father's final mental illness. He led an extravagant lifestyle. He was a patron of new forms of leisure, style and taste. His charm and culture earned him the title "the first gentleman of England", but his poor relationship with both his father and his wife, Caroline of Brunswick, and his dissolute way of life, earned him the contempt of the people and dimmed the prestige of the monarchy.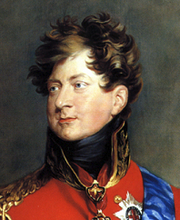 Prince George took an active interest in matters of style and taste, and such associates as Beau Brummell and the architect John Nash directed the Regency style. In London Nash designed the Regency terraces of Regent's Park and Regent Street.
George took up the new idea of the seaside spa and had the Brighton Pavilion developed as a fantastical seaside palace, adapted by Nash in the "Indian Gothic" style inspired loosely by the Taj Mahal, with extravagant "Indian" and "Chinese" interiors.
The problem of the Prince of Wales's debts, which amounted to the extraordinary sum of £630,000 in 1795, was solved (temporarily) by Parliament. Being unwilling to make an outright grant to relieve these debts, it provided him an additional sum of £65,000 per annum. In 1803, a further £60,000 was added, and George's debts of 1795 were finally cleared in 1806, although the debts he had incurred since 1795 remained.