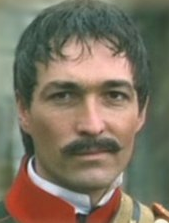 Colonel Pierre de l'Eclin was a
chasseur
in the Imperial Guard. He was
"a handsome man; as tall as Sharpe, strongly built, and with a square-jawed face and golden hair." 
He wore a red dolman jacket with loops and buttons of gold, over which hung a scarlet
pelisse
. The
pelisse
's empty sleeves hung down to the gold-colored chains of his sabre slings, and was decorated with golden chain, edged with soft black lamb's fleece,  fastened with a golden chain. His dark green overalls were reinforced on the inner legs and lower cuffs with leather, and the outer seams were red stripes brightened with golden buttons, his tall boots were of a soft black leather. (
Sharpe's Rifles
 : Chapter 9)
His mission, along with Tomas Vivar, the Count of Mouromorto, was to take the strongbox holding the gonfalon of Santiago, which was protected by Major Blas Vivar, the Count's younger brother, who was attempting to take it to Santiago de Campostela.
The French had marched around the city and trapped Sharpe and his men. The two forces faced each other and Sharpe assigned de l'Eclin to Hagman, but when Sharpe became separated from his men, the colonel rode to the challenge. The two men grappled, and Harper swung a rifle butt at the horse's mouth. The colonel fell from his mount and lunged at Sharpe. Harper shot him even as Sharpe yelled 'no,' indignant, Harper pointed out the colonel was going to kill Sharpe. Sharpe said it was fine, he just hadn't wanted the French officers cavalry overalls and leather boots damaged. (Sharpe's Rifles : Chapter 18) They were items of value, and items he desperately needed to replace his own threadbare gear.
Unusually, the colonel was a left handed swordsman, something so uncommon that opponents were often beaten when they expected a right hand attack.