Michael Hogan
Medium:
Television, Book
Nationality:
Irish
Rank:
Captain (Sharpe's Eagle)


Major (Sharpe's Gold)&(Sharpe's Rifles (TV Movie)
Lt. Colonel (Sharpe's Siege)

Appearances:
Sharpe's Rifles
Sharpe's Eagle
Sharpe's Rifles, Eagle, Gold, Battle, Company, Sword, Enemy,Honour, Regiment, Siege
Actor:
Brian Cox
Michael Hogan is a middle aged, snuff addicted Irishman in the Royal Engineers, who serves as an exploring officer for Wellington, riding behind enemy lines in full uniform, and serves to introduce Sharpe into the murky world of politics and espionage.
Sharpe first meets Hogan in the final pages of Sharpe's Rifles. The engineer seems delighted with Sharpe and his adventures. In Sharpe's Eagle, it appears as if the detached company of Rifles has since been at the beck and call of Captain Hogan, as his escort unit as he mapped roads and passes that led into Spain for Wellesley's army. Previous maps being referred to as a "wondrous work of the Spanish imagination," a job Sharpe considered well done and in agreeable company. (Sharpe's Eagle).
Sergeant Harper irreverently refers to Captain Hogan as "Happy," but during the action at Valdelacasa under Sir Henry Simmerson, Sharpe saw him loose his temper for the first time. Both he and Sharpe were placed under arrest by Simmerson after the debacle at Valdelacasa, when Simmerson's orders lost the regiment's colours, and he attempted to shift the blame to them. Wellesley, however, deferred to Hogan's assessment of the action, placing his full trust in him, and furiously dressed down Simmerson for his foolish and disgraceful actions, and declared the South Essex a battalion of Detachments, promoting Sharpe Captain of the Light Company on Hogan's recommendation.
In Sharpe's Havoc, it is discovered that Hogan is languishing under the incompetent command of Colonel Christopher, a diplomat who purchased his commission, and wears the uniform of a far-more fashionable regiment. When their position outside Oporto is overwhelmed by the French, he reluctantly left Sharpe behind to rescue Kate Savage. Through a series of misadventures it is revealed that Christopher is a traitor, and almost as soon as Sharpe has returned to friendly territory, he and Hogan are ordered to relieve His Majesty's Army of the burden of him by Lord Pumphrey.
Hogan's resourcefulness and knowledge of the roads to and from Portugal allowed him to reach the Spanish-Portuguese border before Marshall Soult's army, and allowed Sharpe to catch Christopher as ordered - but due to the nature of Sharpe's field promotion, and the fact that engineers are only promoted through seniority, neither man was rewarded for the action (Sharpe's Havoc).
His regard for and friendship for Richard Sharpe was brought into focus in Sharpe's Sword when he thought Sharpe dead, and resented him for denying his friendship to those who still lived; that life would thereafter be anti-climactic, inadequate, and dull. He ordered Harper released after being arrested  for digging up graves to prove that Sharpe was not among the dead, then the two of them sought Sharpe in the death room, and found him gravely wounded. They moved him to a clean room, and then he ordered Harper and Isabella to stay with him. When the rifleman finally recovered, he nearly embraced Sharpe, but then simply smiled in pleasure, embarrassing Sharpe with his delight.
He likes Teresa Moreno and approves of her as a mate for Sharpe, and plays delightedly with Antonia when possible (Sharpe's Sword). He also considers Sharpe a gentleman in reality rather than by birth, but Hogan was saddened that his friend Sharpe only saw life as one immense battle and he fought it with unparalleled ferocity (Sharpe's Eagle).
In February of 1814, he fell ill with a dangerous fever, which was otherwise not described. Sharpe visited him on his sickbed in St Jean de Luz, France, and tried to speak to the delirious major, using his given name for the first time.  Hogan manages to distinctly convey the names Ducos and Maquereau, as if her were trying to give Sharpe the information he would need during Sharpe's Siege. Feeling he would never forgive himself if he didn't make a gesture of friendship, Sharpe took the fevered man's hand in farewell.
Upon return from the desperate events at the fortress of Teste de Burch, Sharpe was informed that Hogan's fever had proved fatal, he was devastated. "He wept because a friend had died." (Sharpe's Siege).
Television
Edit
In the TV series, Hogan recruits Sharpe under the smokescreen of recovering the missing banker Rothschild, while actually manipulating him into joining Colonel Don
Blas Vivar
for his morale-heightening assault on Santiago Compostella. In the books Sharpe becomes embroiled in these affairs before even meeting Hogan at the end of
Sharpe's Rifles
.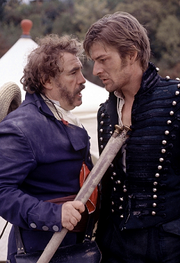 In both cases,  the end result is the same: Hogan is greatly impressed with Sharpe's initiative and often recruits him as an agent, and  to make a decent fighting battalion out of the abused South Essex. In Sharpe's Eagle, after Sharpe demonstrates the South Essex capable of firing not only three but four shots a minute, the other officers ride off without a word, but Hogan playfully admonishes him, "Stop showing off, Sharpe."
Hogan vanishes from the series without explanation after the second film, due to conflicting commitments for Brian Cox, the actor who portrayed him.
He was succeeded by a string of alternate intelligence officers and was never mentioned again.