Welcome to the
Sharpe's Wiki
, focusing upon the twenty-one novels and three short stories featuring Richard Sharpe by
Bernard Cornwell
, as well as the television movies based upon them.
You may edit this wiki to improve our articles - we currently have 369
Who is Sharpe?
Edit
Richard Sharpe is the fictional protagonist of a series of 21 novels and three short stories chronicling his career as a soldier in the British Army. Written by Bernard Cornwell, the series follows Richard Sharpe's adventures throughout his twenty-two year career; originally only 11 books covering the Penninsula War, the author has since added another ten volumes to cover highlights of Sharpe's career from his time as a private to career's end as a Lt. Colonel.
Cornwell begins the timeline with Sharpe's Tiger when Sharpe is Private in the 33rd Regiment of foot in India. He is promoted to Sergeant by the end of the book. He was promoted to Ensign in the 74th Regiment by the end of his time in India, and transferred to the newly formed 95th Rifles as a Second-Lieutenant during Sharpe's Trafalgar. Circumstances and ambition allow him a prominint roll in the fighting in Spain and Portugal and he is promoted through the ranks with every feat and victory, finally becoming a Lieutenant Colonel in Sharpe's Waterloo.
The Sharpe Series
Edit
Sharp has been released in print and film. The Sharpe novel series ran from 1981 to 2007. The Sharpe television series ran from 1993 till 1997, two additional movies were made in 2007-2008. The two versions do not always follow the same story line, and include both major and minor differences in plot. Indeed several of the television movies are original and have no bearing on any novel plotline. Hugely popular, the series engendered the Sharpe Appreciation Society and devotees from around the world.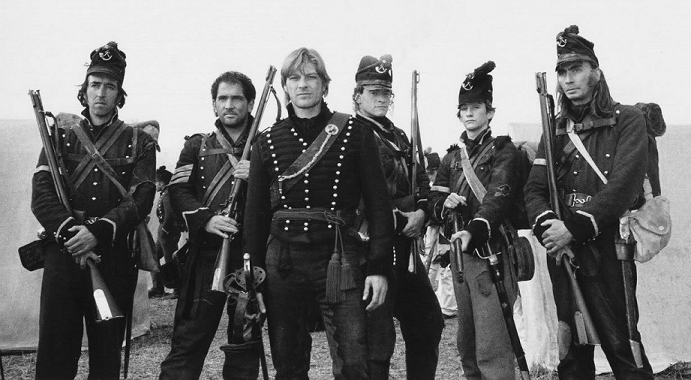 *Be warned, many of the character articles will contain spoilers as to plot and story.