Arthur Wellesley
Medium:
Television, Book, Reality
Also known as:
Duke of Wellington
Nationality:
British
Rank:
Peer of the Realm, Field Marshall
Appearances:
Sharpe's Company, Sharpe's Enemy, Sharpe's Honour, Sharpe's Gold, Sharpe's Battle, Sharpe's Siege, Sharpe's Mission (TV Movie), Sharpe's Waterloo, Sharpe's Challenge (TV Movie)
Actor:
David Troughton and Hugh Fraser
Wellington
is cold, imperious, and impatient.

Sharpe's reluctant patron, having risen Sharpe from the ranks in gratitude for Sharpe saving his life, Wellington is uncomfortable with Sharpe, but not above using him as a weapon, counting on Sharpe's pride, luck, and cleverness to get the job done. He regarded Sharpe as a rogue, but a useful rogue, and on at least one occasion, wished he had a thousand such men (
Sharpe's Company
).
He worked his way through a series of promotions, but as an aristocrat, started as an officer rather than in the ranks. He did, however, earn no end of contempt from his peers. Wellesley's career was only possible because of his aristocratic origins and connections. Nobody not born into the gentry could ever hope to attain commands such as those Wellesley was given, and the only thing that truly distinguished Wellesley from other noblemen given command as a favor rather than on merit, was that he proved to have actual talent when it came to command. As did Sharpe.
Because of a prominent nose, he was often called Nosey behind his back.
Television
Edit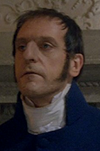 In the Sharpe's television series, he was played by two different actors. Initially the role was played by
David Troughton
(Sharpe's Rifles, Sharpe's Eagle).
After series 1, Hugh Fraser took over the role when Troughton swore he'd never go on location in the Ukraine again.
Historical Figure
Edit
Arthur Wellesley, the third surviving son of the Earl of Mornington (1735–1781), and his wife, Anne (1742–1831), was born in Dublin on 1 May 1769, he always hated being being called Irish, however, saying, "Being born in a stable does not make one a horse".
In March 1787 a commission was obtained for Wellesley as ensign in the 73rd foot, a Highland regiment then in India. Family connections enabled him to be appointed as aide-de-camp to George Nugent-Temple-Grenville, the lord lieutenant of Ireland. In December he was commissioned as lieutenant in the 76th foot and by June 1789 had been transferred to the 12th light dragoons. In June 1791 he was commissioned as captain in the 58th foot, before moving to the 18th light dragoons in October 1792.In 1794 he was assigned to an expeditionary force under Francis Rawdon-Hastings, Earl of Moira, sent out as reinforcement for Prince Frederick, Duke of York and Albany, in the Netherlands. During the campaign he earned an official commendation for checking a French column in a minor engagement in September 1794 at Boxte. He concluded that many of the campaign's blunders were due to the faults of the leaders and the poor organization at headquarters. In June 1796 he sailed for India.
Wellesley was dispatched to deal with Tippoo Sahib of Mysore. At the Siege of Seringapatam in April 1799, General George Harris was impressed with Wellesley efforts during the campaign and he was made administrator of the conquered territory. In April 1802, Wellesley was promoted to the rank of major-general. The following year he declared war on Sindhia and Berar, the two leading Maratha states, and in a surprise attack captured almost without loss the great fortress of Ahmadnagar, regarded as one of the strongest in India.
At Assaye, Wellesley contributed by his personal example, in the thick of the fighting throughout, he had one horse killed under him and another wounded. Wellesley returned to England in 1805.
In 1808 he was sent to aid the Portuguese against the French. After a victory at Vimeiro he returned to England but the following year he was asked to assume command of the British Army in the Peninsular War. By 1812 the French were forced out of Spain and Wellesley reinforced his victory against the French at Toulouse.
In 1814 Wellesley was granted the title, the Duke of Wellington. He was then put in command of the forces which took on Napoleon Bonaparte at Waterloo in June, 1815.
Wikipedia:Arthur Wellesley, 1st Duke of Wellington - the Wikipedia entry for the real Arthur Wellesley, Duke of Wellington